Step 1: Download the provider configuration file.

This file contains pre-set configuration parameters which have been tested and proven to work within 3CX V15.5 and above. You may download the provider template here or from the bottom of this article.

Step 2: Import the provider template into 3CX when setting up your SIP trunk.

Once you have logged into the 3CX management console, from the menu options on the left-hand side, select 'SIP TRUNKS'. From here, select 'Import Provider' from the menu options along the centre of the page.


Step 3: Upload Provider and enter Main Trunk Number.

Once you have selected 'Import Provider' as shown above, a pop-up will appear. Upload the downloaded Provider Template supplied in Step 1 using the 'Upload' button, and enter your Main Trunk Number, being sure to use the right number format. For registration purposes, SproutTel does not support National Format and all registrations must use E.164 format as shown in the example below.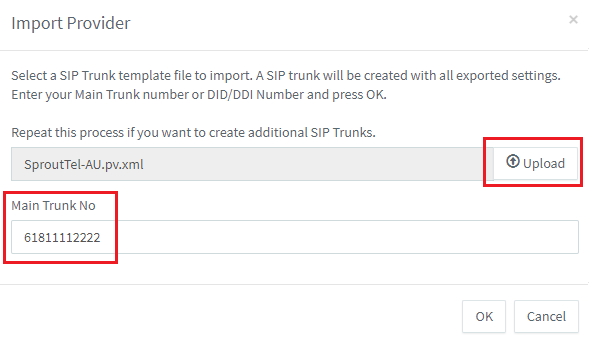 Step 4: Configure your SIP Trunk.

Once the template has been uploaded and Main Trunk Number entered as shown above, you will be presented with the main SIP Trunk Configuration settings available within 3CX. From this page, you will need to update the Number of Simultaneous Calls available on your trunk, along with providing the Authentication ID and Authentication Password provided by SproutTel. Your authentication ID will be the same number as you entered for the Main Trunk Number, in the same format.

If your plan has more than one DID assigned, you can add your DIDs under the DID menu tab at the top of the SIP trunk settings page by clicking the

button.

Once you have entered the Authentication username and password supplied, you can now save your SIP trunk settings by clicking the

button at the top of the page.

To check that your trunk is now registered, it is recommended that you navigate to the Dashboard and check the Trunks Up status shown below;


With your trunks now registered, you can now move onto the Inbound Rules section to make sure that your calls will flow correctly through your PBX.